Building and Unbuilding
ගොඩනැගිලි හා නැවත ගොඩනැඟීම
I had the brilliant idea to build a labyrinth, on a surfing beach in Sri Lanka.
When I thought of making this installation I had a very clear image in my head of how I wanted it to look. I supposed this was subject to change but I could have never imagined the journey it would take and the effect this labyrinth would have on me.
So, with a lot of help from locals, tourists and my fellow artist Lewis, I set the foundation of a big installation.
And then… chaos.
The ocean and the wind started attacking.
Sri Lanka is very close to the equator therefore the tide is not big. The waves however, are huge. In the night, the waves would reach the top of the beach, right up near the terraces of the hotels, and flood my labyrinth. Sometimes I would wake up in the morning to look at a lagoon, other times at a lake and occasionally a flowing river.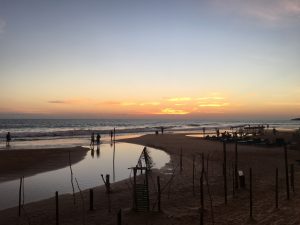 (photo by Mary Genis) 
I tried to restore it, re-build it and keep it to the shape I had initially given to it. I came to realise that that was somehow impossible.
One night, Neil and me were sitting on the terrace and he had an idea. What if I held a light and danced around in the labyrinth and over the stagnant water? What if while I was doing that a camera was set to stay open and imprint all the light. I run to Joshua and asked if he would be my photographer. He happily agreed and after a few times of playing and trying out settings on the camera, we were pleased with the result.
30 seconds of running, dancing, jumping, walking while holding a light. A camera, a friend, a labyrinth and this is what happens!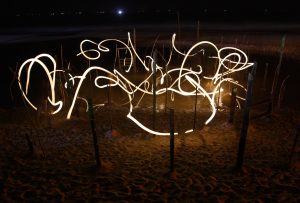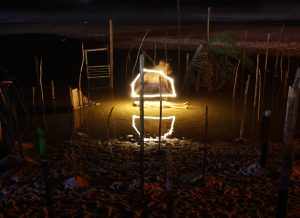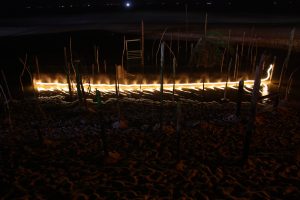 (photos by Joshua Sofaer)
Days went by and the water kept coming. Me, as stubborn as I am, insisting on fixing it and tried to make to what I wanted it to be.
One of the initial images I had for the installation was that it would be secluded. When it came to practice, it was impossible to find that much wood without cutting down the entire jungle, so I spoke the manager of our hotel Chaminda suggested that I used platted coconut leaves, in the same way the local people use them to make roofs or fences.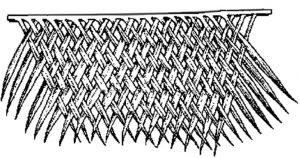 Two days later, 100 coconut platted leaves were waiting for me at the entrance of the hotel.
I spent three days tying the coconut leaves on the wood with scraps of fabric from the local clothes shop. It looked nice but something didn't feel quite right.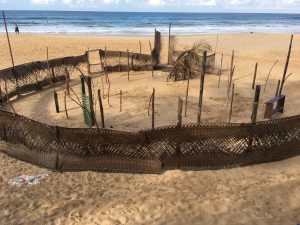 (photo by Mary Genis)
The water and the wind again.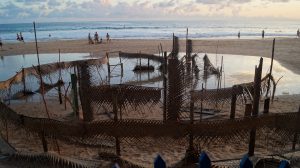 (photo by Lewis Sherlock)
How difficult is it to accept the ephemerality of things we make? How difficult is it to let go of the things we feel belong to us when they actually do not?
A week before the performance and I was tired, disappointed and frustrated. I knocked on Joshua's door and he immediately saw that my eyes were full of tears.
"What's wrong?" he said, "do you want to talk?"
I did want to talk.
"I can give as much time as you need" Joshua said. Moved and deeply grateful I sat on the floor of his room and cried. I WAS tired; tired to be stubborn and fight against the sand, the sea and the wind.
Half an hour later, I knocken on everyone's doors and invited them to attent my "Cutting down the coconut leaves ceremony" performance. "Let go and see what happens" I said to myself, and somehow felt like smiling.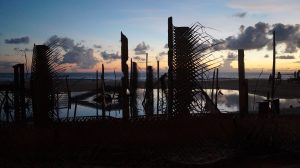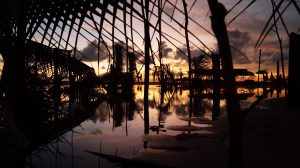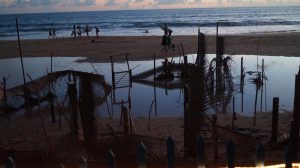 (photos by Lewis Sherlock)
The coconut leaves, laid on the sand, seemed like wounded reminants from a battle. "That was very sad but brave" Neil said but I felt relieved and happy. I ended up dancing like crazy in the middle of the labyrinth, in the water, around the wood and the coconut leaves but did not care about what would follow. How many new possibilities have I just opened by cutting down the coconut leaves? I thought, and took a long walk on the beach.
The most important lesson I learned during the residency: to not go against nature, my nature.
I want to move and sing and make. Sri Lanka, Sura Medura is an idelic place to do all these things and a place where I realise how deeply happy they make me feel. It will be a challenge to balance all these things out along the bills, the funding applications and ... life, when I go back.
But I am not back yet, and I have a labyrinth to finish here, and a performance to make, and a Minotaur to meet. 
AND infinite possibilities to explore...