'Urban Nature' is a screen-dance project created by second year BA students at Dance City training academy in Newcastle, in collaboration with dance-theatre artist Zoe Katsilerou.
With the guidance and support of their lecturer Zoe, students created this film as a way of reflecting on relationships between dance and ecology. Some of the themes explored included: natural habitat, natural habitat within urban environments, urban environment's impact on nature.
For two days, the students participated in lectures, debates and discussions around current dance practices and their relationship to ecology. These were curated and facilitated by Zoe Katsilerou, and hosted guests Scottish Dance Theatre's Artistic Director Joan Clevillé and dance artist Penny Chivas. Following these conversations, the students were given tasks and supported to devise the material seen in the film. They choreographed and filmed the project over the course of a snowy afternoon in the centre and parks of Newcastle.
Alongside the screen-dance project, students created the following manifesto as a way of publicly committing to and acknowledging their responsibility towards the environment as dance artists.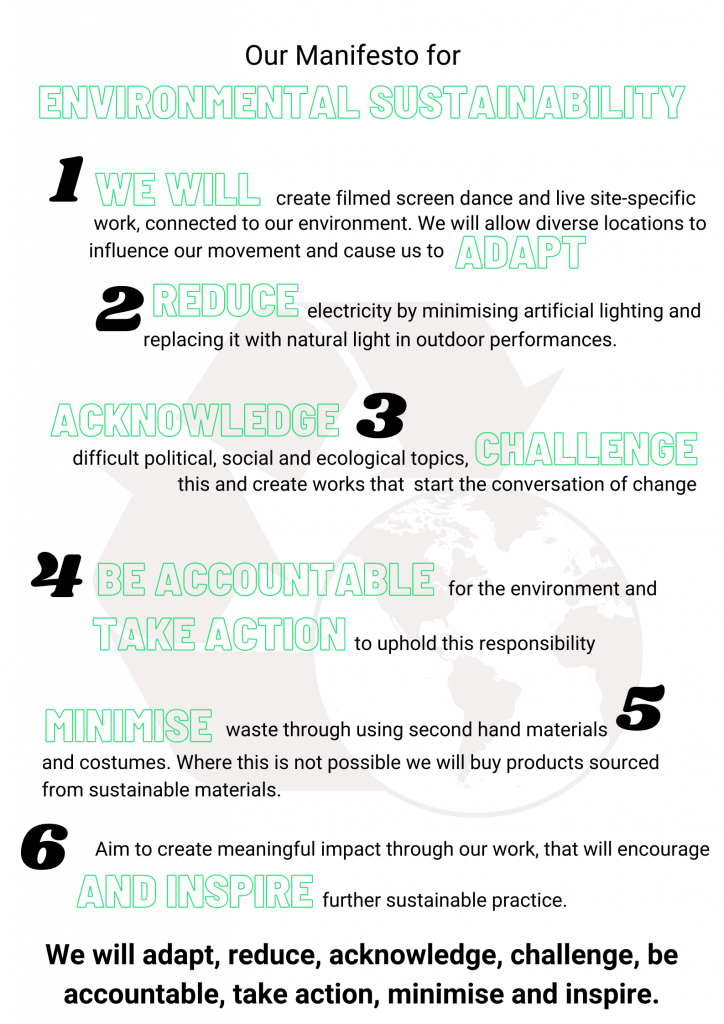 The design of the manifesto was made by Jasmine Waterfield.
Credits:
Performers:
Composition: Zoe Katsilerou & Eilon Morris
Sound Production: Eilon Morris